Easy Diced Chicken Breast And Potato Bake
Are you looking for a delicious, easy to make dinner option that will satisfy the whole family? If so, then look no further than this amazing diced chicken breast and potato bake. Packed with protein-rich chicken as well as hearty potatoes, this dish is sure to have everyone raving in delight.
Not only is it comforting comfort food at its best, but also surprisingly simple and quick to throw together in one pot– perfect for busy weeknights! With just a few ingredients and minimal prep work, you can whip up an impressive meal in no time.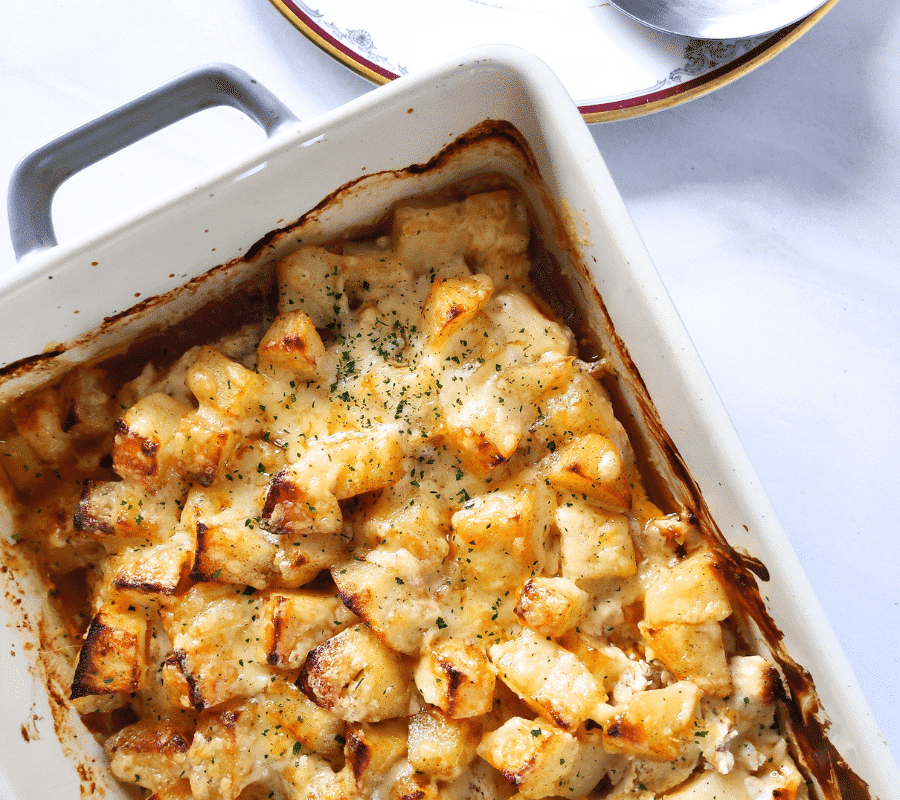 Juicy chicken and potato one pot recipe
If you're looking for a comforting yet delicious meal, look no further than diced chicken breast and potato bake. This hearty dish is perfect for a chilly evening and is sure to leave your taste buds satisfied. Imagine juicy, tender chicken mixed with perfectly seasoned potatoes, all baked to perfection in a creamy sauce.
This meal is easy to make and can be adapted to your taste preferences. Add some extra vegetables like carrots or broccoli to bump up the nutrition, or swap out the chicken for a vegetarian option like tofu. No matter how you make it, this diced chicken breast recipe and potato bake is sure to become a family favourite.
Ingredients
4 Chicken Breasts (Chopped into small pieces 2 cm)
5 Potatoes (Peeled and cut into cubes)
7 tbsp Plain Yoghurt
2 Cloves of Garlic (Crushed)
2 tbsp Olive Oil
1 tsp Paprika
1 tsp Salt
1 tsp Ground Black Pepper
1 tsp Parsley
1 tsp Cayenne Pepper
100 g Grated Cheese
marinate chicken with yoghurt and garlic

oil coat the potato cubes with seasonings
How to make chicken and potato bake
Serving Suggestions
If you're looking to add some variety to your chicken and potato bake meal, here are some serving suggestions that can complement and enhance the flavours of the dish:
Roasted Vegetables: Roast some seasonal vegetables like Brussels sprouts, carrots, and bell peppers seasoned with olive oil, salt, and pepper. This will provide some added texture, colour, and taste to your meal. For vegetarians, replace chicken with some roasted tofu or tempeh slices.
Garlic Bread: A side of garlic bread can bring a little bit of crunch to your meal while also adding an extra layer of flavour.
Zesty Salad: You can create a zesty salad by tossing some greens, cherry tomatoes, corn, and cucumbers in a zesty dressing. The tanginess of the salad dressing complements the creaminess of the chicken and potato bake.
Roasted Sweet Potatoes: Another veggie-rich alternative is to roast some sweet potatoes with a little bit of cinnamon and brown sugar. They make an excellent side dish for any chicken meal.
Savoury Rice: Cook some brown rice with chicken broth and sauteed onions and garlic to complement your chicken and potato meal. You can also add some sliced almonds and dried cranberries for an added crunch.
Steamed Broccoli: Steamed broccoli adds a nutritious boost to your meal while also providing some texture and colour to the plate.
Grilled Asparagus: Asparagus is one of those veggies that perfectly complement the chicken. Grill them for just a few minutes, sprinkle some Parmesan cheese, and you have an excellent side dish.
Roasted Garlic Mushrooms: Roasted garlic mushrooms are simple yet delicious. Just toss sliced mushrooms with garlic, olive oil, and herbs of your choice, and roast them until they're browned.
Coleslaw: Coleslaw is a refreshing side that adds some crunch and tanginess to your meal. You can make it at home or buy a pre-made one, as long as it complements the flavours of the chicken and potato bake.
Leftovers
To store leftover chicken and potato bake, it's essential to let the dish cool down to room temperature, refrigerate it within two hours after it was cooked, and store it in an airtight container. Label the container with the date so you don't forget when it was stored.
You can keep the leftovers in the refrigerator for up to four days. However, make sure to reheat it thoroughly to an internal temperature of 165°F (74°C) before consuming. Reheat it in a preheated oven or microwave to ensure that the chicken and potatoes are warmed through evenly.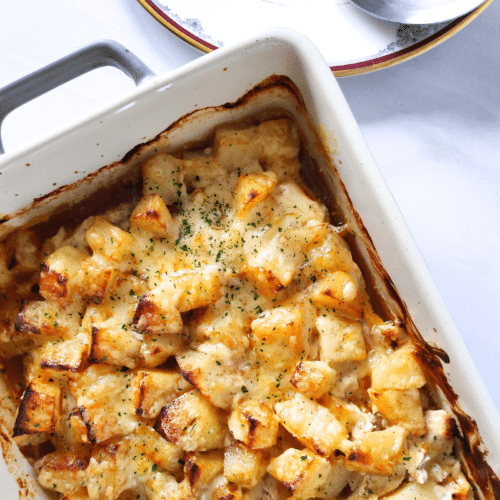 Easy Diced Chicken Breast And Potato Bake
comfort food at its best, but also surprisingly simple and quick to throw together in one pot – perfect for busy weeknights!
Equipment
Ingredients  
4

Chicken Breast

(Chopped into small pieces 2 cm)

5

Potatoes

(Peeled and cut into cubes)

7

tbsp

Plain Yoghurt

2

Cloves of Garlic

(Crushed)

2

tbsp

Olive Oil

1

tsp

Paprika

1

tsp

Salt

1

tsp

Ground Black Pepper

1

tsp

Parsley

1

tsp

Cayenne Pepper

100

g

Grated Cheese
Instructions 
Place the chopped chicken breast in a bowl with the crushed garlic and yoghurt. Cover and leave to marinate for at least 15 minutes. You can also do this the night before.

Preheat the oven to 220℃fan/240℃.

Cut the potatoes into cubes and put in a bowl with the oil, salt, pepper, paprika and cayenne pepper.

Put the creamy chicken mixture into the base of your oven proof dish and spread out. Top with the oil coated potatoes and spread out evenly. Bake in the oven for 30 minutes.

Take out of the oven and sprinkle the top with the grated cheese and a sprinkling of parsley. Bake for a further 10 minutes or until the potatoes are cooked through. Serve with steamed vegetables.
Get your ingredients delivered
Check out Ocado! Save 25% on your first order + 3 months free unlimited deliveries. Enter VOU7389477 at checkout
Nutrition
Calories:
452
kcal
Carbohydrates:
6
g
Protein:
57
g
Fat:
21
g
Saturated Fat:
7
g
Polyunsaturated Fat:
2
g
Monounsaturated Fat:
9
g
Trans Fat:
0.03
g
Cholesterol:
171
mg
Sodium:
717
mg
Potassium:
970
mg
Fiber:
0.3
g
Sugar:
2
g
Vitamin A:
569
IU
Vitamin C:
5
mg
Calcium:
281
mg
Iron:
1
mg
Tried this recipe?
Let us know how it was! or tag @rachelsrecipepantry on Instagram and hashtag #rachelsrecipepantry Thank you!!