The Best Rhubarb And Ginger Loaf Cake
Are you looking for a delicious and easy recipe? Look no further because this rhubarb and ginger loaf cake is not only tasty but also really simple to make. The perfect combination of tart rhubarb, spicy ginger, and sweet cake batter creates a unique flavour that will delight your taste buds!
If you are hosting a dinner or just want something special for an afternoon snack, this delightful loaf cake recipe is the perfect answer. With its bright colours, flavourful combinations & melt in your mouth texture, it's sure to be a hit with everyone who tries it!
Ingredients
200 g Rhubarb (Washed, trimmed and chopped.)
3 tbsp Ground Ginger
175 g Margarine (or butter)
175 g Caster Sugar (or granulated)
3 Eggs
200 g Self Raising Flour
2 tbsp Milk
Brown Sugar (to sprinkle on top)
Recipe for rhubarb and ginger cake
Be sure to check out the full recipe and ingredient list on the recipe card at the bottom of this post.
Rhubarb and Ginger Cake
This cake is a delicious way to enjoy fresh seasonal rhubarb. The tartness of the rhubarb pairs perfectly with the warmth of the ginger, creating a flavour explosion in your mouth with every bite. Plus, this moist and tender cake is easy and fun to make. Impress your family and friends with this sweet treat at your next gathering, or enjoy a slice with a cup of tea on a lazy afternoon. Trust me, one bite, and you'll be hooked!
Fresh or frozen rhubarb
Deciding on whether to use fresh or frozen rhubarb in a rhubarb and ginger cake can be a tough decision. While fresh rhubarb has a tart and crisp bite to it, frozen rhubarb can offer convenience and consistency throughout the year.
Ultimately, it comes down to personal preference and what is available. If using fresh rhubarb, make sure it is firm and bright in colour, indicating it is ripe and juicy. If using frozen rhubarb, be sure to thaw it completely and drain the excess liquid to avoid a soggy cake. Whether fresh or frozen, rhubarb adds a unique and tangy twist to any cake, making it a deliciously refreshing dessert option.
Ginger – Fresh, ground or stem?
Ginger – the glorious spice that adds warmth and zing to any dish. But when it comes to baking a rhubarb and ginger cake, the question arises – which form of ginger should you use? Fresh, ground, or stem?
While fresh ginger adds a fiery kick and stem ginger brings a chewy texture, ground ginger provides a mellow and consistent flavour throughout. Ultimately, it all comes down to personal preference. I used organic ground ginger in this recipe, but why not try experimenting with all three forms to find your perfect balance of heat and sweetness in your rhubarb and ginger cake?
Other rhubarb recipes
Rhubarb and Elderflower Traybake
Storage
Are you considering baking a delicious rhubarb and ginger cake but not quite sure how long it will keep? Well, worry no more! With proper storage techniques, your cake can stay fresh and moist for up to five days after baking. The key is to keep it in an airtight container, which will prevent moisture from escaping, and store it in a cool, dry place. Alternatively, you can also freeze the cake for longer storage, for up to a month. So go ahead and whip up that scrumptious rhubarb and ginger cake, knowing that it can be enjoyed for several days to come!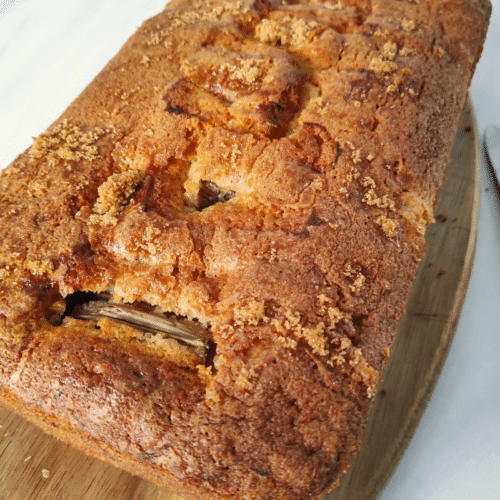 Easy Rhubarb And Ginger Loaf Cake
Rhubarb and ginger loaf cake is not only tasty but also really simple to make. The perfect combination of tart rhubarb and spicy ginger.
Ingredients  
200

g

Rhubarb

(Washed, trimmed and chopped.)

3

tbsp

Ground Ginger

175

g

Margarine

(or butter)

175

g

Caster Sugar

(or granulated)

3

Eggs

200

g

Self Raising Flour

2

tbsp

Milk

Brown Sugar

(to sprinkle on top)
Instructions 
Preheat the oven to 170℃fan/190℃/375℉/Gas 5. Grease and line the base of a 900g or 2lb loaf tin.

Cut a few short lengths of rhubarb and the rest diced.

Beat the butter and sugar together in a mixer until pale and fluffy.

Add the eggs, one at a time beating well after each one. Add a tbsp of the flour with each egg to prevent curdling.

Add the ginger, flour and milk, and gently mix together. Fold in the diced rhubarb and pour into the prepared tin. Level the top and place the short lengths of rhubarb on top. Sprinkle with brown sugar and bake in the oven for 1 hour until golden and cooked through.

Allow to cool in the tin for 5 minutes, then transfer to a wire rack to cool completely.
Get your ingredients delivered
Check out Ocado! Save 25% on your first order + 3 months free unlimited deliveries. Enter VOU7389477 at checkout
Nutrition
Calories:
295
kcal
Carbohydrates:
34
g
Protein:
5
g
Fat:
16
g
Saturated Fat:
3
g
Polyunsaturated Fat:
4
g
Monounsaturated Fat:
7
g
Trans Fat:
0.01
g
Cholesterol:
49
mg
Sodium:
187
mg
Potassium:
128
mg
Fiber:
1
g
Sugar:
18
g
Vitamin A:
723
IU
Vitamin C:
2
mg
Calcium:
38
mg
Iron:
1
mg
Tried this recipe?
Let us know how it was! or tag @rachelsrecipepantry on Instagram and hashtag #rachelsrecipepantry Thank you!!