Cake In A Jar Recipe (Mason Gift Jars)
Are you looking for a simple, fun, and creative way to give someone a special treat? If so, making gift Mason jars filled with delicious cake is a perfect idea! Not only are these easy to make and transport, but they look absolutely adorable. Perfect as a gift for any occasion or event, this "Cake in a Jar" recipe will show you how to assemble your own custom-created Mason jar masterpieces that everyone will love! Everything from birthday celebrations to baby showers can be made extra memorable with homemade gifts of this nature. Let's get started on creating an unforgettable sweet experience with yummy layers of goodness discovered in each jar!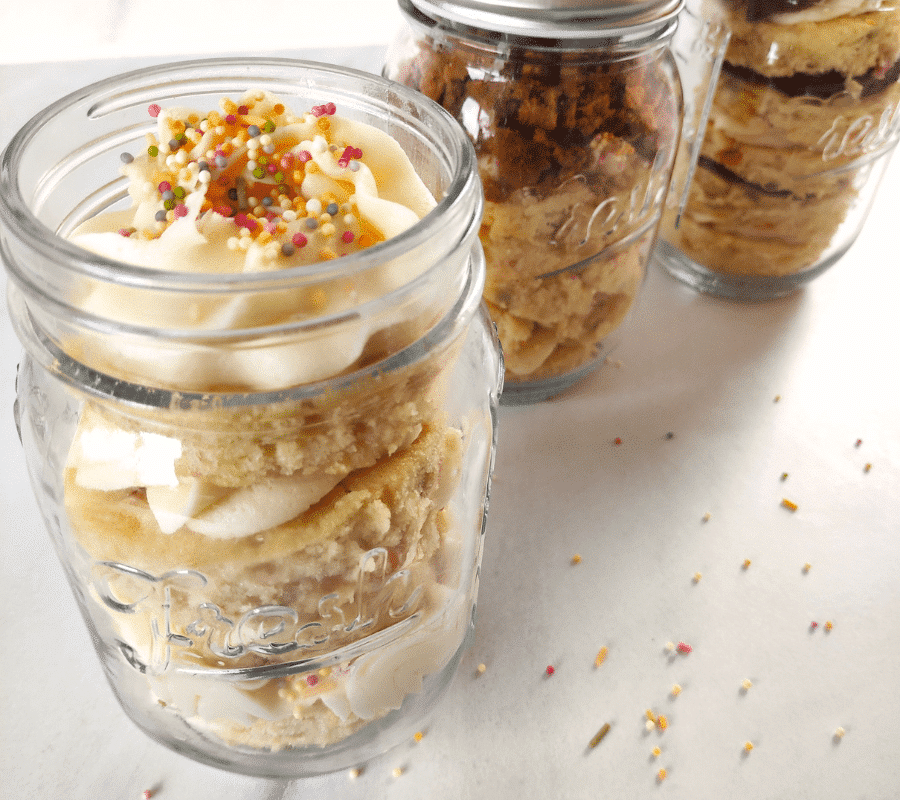 Celebration jar of cake
Who says delicious cake can't come in a jar? In fact, cake in a mason jar is a delightful invention that has taken the dessert world by storm! Picture this: moist layers of fluffy cake, topped with swirls of frosting all packed into a cute and convenient jar. Whether you're in the mood for a sweet treat at home or need a portable dessert for a picnic or party, cake in a jar is the perfect solution. With so many flavour combinations and decorating options, the possibilities are endless. So grab a spoon, dig in, and enjoy the irresistible charm of cake in a mason jar!
Ingredients
For 3-4 large mason jars, you will need the following ingredients:
170 g Plain Flour (All Purpose Flour)
2 tbsp Corn Flour
1 tsp Baking Powder (Level)
113 g Butter
150 g Sugar (Caster or granulated)
2 Egg Whites
2 tbsp Vegetable Oil
50 g Coloured Sprinkles
Butter Icing/Frosting
Cake in a jar instructions
Buttercream
Assembling Cake In A Mason Jar
Filling Ideas
Instead of using plain buttercream, try these other fillers:
Nutella or chocolate spread
Crushed Ginger Biscuits
Fresh cream and fruit (to be kept in the fridge)
Cake Sponge Ideas
Chocolate sponge
Red velvet
Storage
Typically, if stored correctly, your cake in a jar can last up to 5 – 7 days in the fridge or 2-3 days at room temperature. If you're using fresh cream and fresh fruit, it will need to be eaten within two days when stored in the fridge.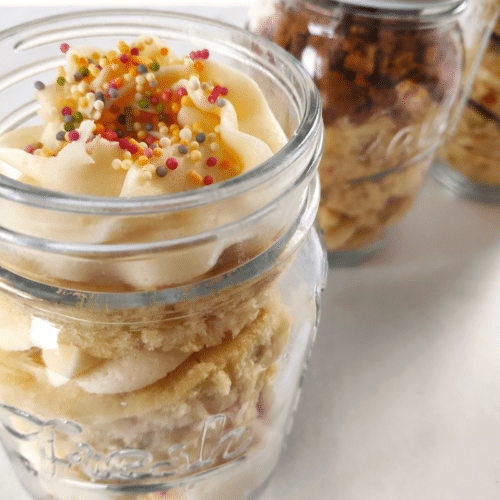 Cake In A Jar Recipe (Mason Gift Jars)
Mason jar cakes are great fun gifts for parties, BBQ's or just for a treat.
Ingredients  
170

g

Plain Flour

(All Purpose Flour)

2

tbsp

Corn Flour

1

tsp

Baking Powder

(Level)

113

g

Butter

150

g

Sugar

(Caster or granulated)

2

Egg Whites

2

tbsp

Vegetable Oil

50

g

Coloured Sprinkles
Instructions 
Preheat the oven to 170℃/150℃fan/350℉ and grease and line with baking paper a deepish baking tray 7 x 11 inch.

Cream the butter and sugar in a bowl until light and fluffy (2 mins).

Add the egg whites a bit at a time, adding some of the flour so it doesnt curdle. Add the oil and vanilla essence.

Add the flour, corn flour and baking powder and slowly add the milk until everything is combined but don't over mix.

Fold in the sprinkles then pour the mixture into the baking tin and spread out evenly.

Bake in the oven for 10-15 minutes until golden brown and a skewer or knife comes out clean when piercing the centre of the cake. Leave to cool in the tin for 10 minutes before transferring it a wire rack. The best way to remove the cake is to place the wire rack on top of the tray and hold it together, then turn it upside down. Slowly remove the baking paper.
Buttercream
Using a mixer on a medium setting, add the butter and whisk until creamy. Add the icing sugar and vanilla essence until it looks crumbly. Turn up the setting then slowly add the milk to get a creamy texture. Transfer to a piping with a large nozzle.
Assembling Cake In A Jar
Using circle cookie cutters, cut holes that are the same width as the jar (the same size as the rim of the jar).

Place one piece of cake into the base of the jar, then pipe some buttercream on top, being careful not to touch the glass. Add some sprinkles or anything else you want to add. Repeat the process, ending with the buttercream on top with sprinkles. Make sure there is enough room at the top so you can screw the lid on.

Any leftover sponge can be broken up and used for another rustic-looking cake in a jar. Use the same process as before.
Get your ingredients delivered
Check out Ocado! Save 25% on your first order + 3 months free unlimited deliveries. Enter VOU7389477 at checkout
Nutrition
Calories:
1100
kcal
Carbohydrates:
151
g
Protein:
7
g
Fat:
54
g
Saturated Fat:
31
g
Polyunsaturated Fat:
6
g
Monounsaturated Fat:
14
g
Trans Fat:
2
g
Cholesterol:
122
mg
Sodium:
500
mg
Potassium:
98
mg
Fiber:
1
g
Sugar:
113
g
Vitamin A:
1424
IU
Calcium:
90
mg
Iron:
2
mg
Tried this recipe?
Let us know how it was! or tag @rachelsrecipepantry on Instagram and hashtag #rachelsrecipepantry Thank you!!