Simple Blackcurrant Cordial Homemade Recipe
From providing a fruity kick to your evening spritzer to flavouring desserts, blackcurrant cordial is bursting with a sweet and tart flavour. Plus, making your own homemade version of this beloved beverage adds an extra special touch – it's easier than you might think! A great way to use up all those blackcurrants you've picked at the fruit farm!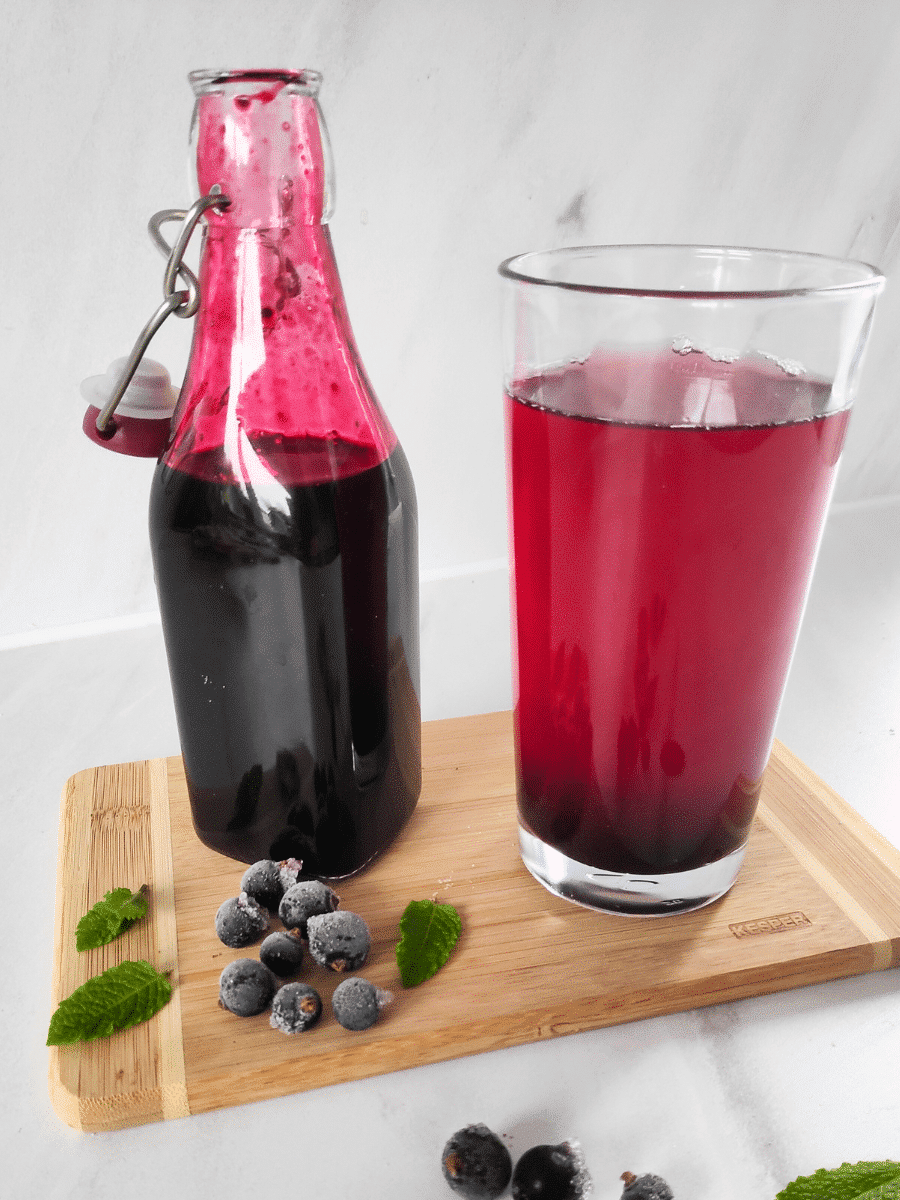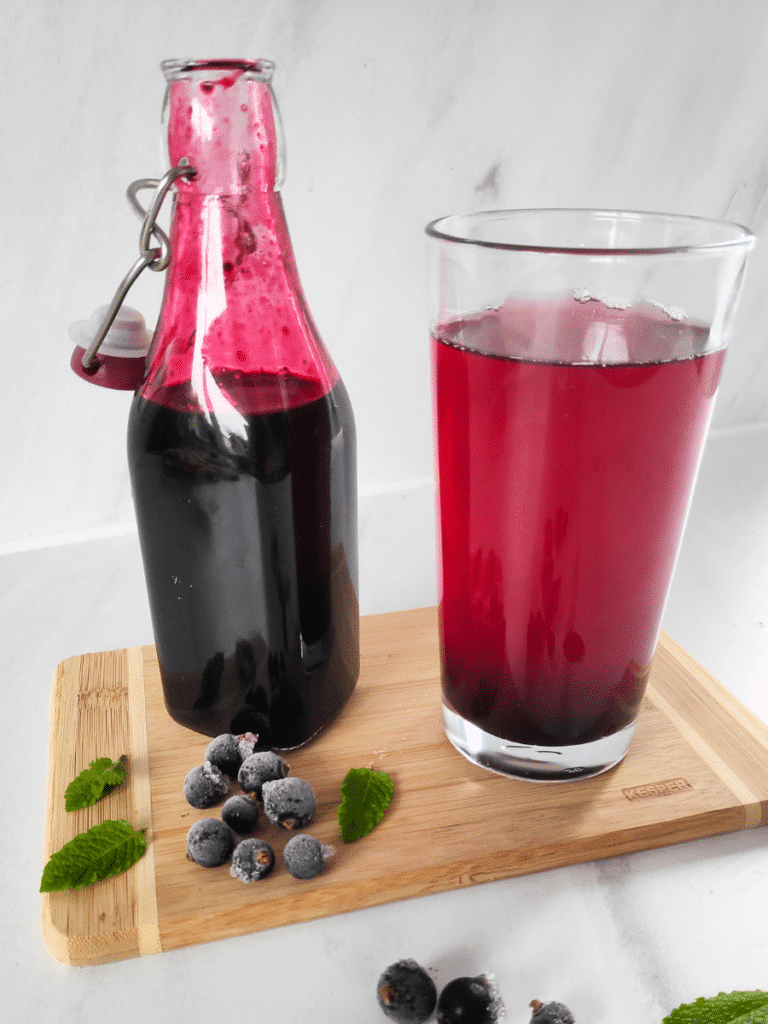 Recipe for blackcurrant cordial without artificial sweeteners
When you buy blackcurrant cordials like Ribena from the shops, they usually have artificial sweeteners in them, which spoils the taste, let alone being bad for you! Homemade blackcurrant cordial is a sweet, tangy syrup without all the shop-bought rubbish that is easy to make and incredibly versatile.
With just a handful of ingredients, you can create a delicious syrup that can be used in a variety of ways. Blackcurrants are high in Vitamin C and antioxidants, making homemade blackcurrant cordial a healthy alternative to store-bought syrups that are often full of additives and preservatives. The tartness of the blackcurrants is perfectly balanced with the sweetness of sugar, resulting in a refreshing and fruity drink that is perfect for any occasion.
What can you use blackcurrant cordial for?
Homemade blackcurrant cordial can be used in a variety of ways, from making thirst-quenching drinks to flavouring desserts. Simply mix a splash of cordial with water or sparkling water to create a refreshing drink that is perfect for hot summer days.
The syrup can also be used in baking, such as for flavouring icings and glazes, or even drizzle it over ice cream. For an adult twist, add a dash of blackcurrant cordial to prosecco or gin for a fruity and refreshing cocktail. With so many uses, homemade blackcurrant cordial is a must-try for anyone who wants to add a burst of fruity flavour to their drinks and desserts.
Ingredients
For about a 300ml bottle you will need the following ingredients:
450 g Blackcurrants (Fresh or frozen)
250 g Sugar (Caster or Granulated)
250 g Water
2 Lemons (Juice and Zest)
How to make homemade blackcurrant cordial
What to do with the leftover blackcurrants
When straining the blackcurrants through the muslin cloth or sieve, don't throw away the blackcurrants. Transfer them to a sterilised jar and use them as a blackcurrant compote. It's delicious on toast!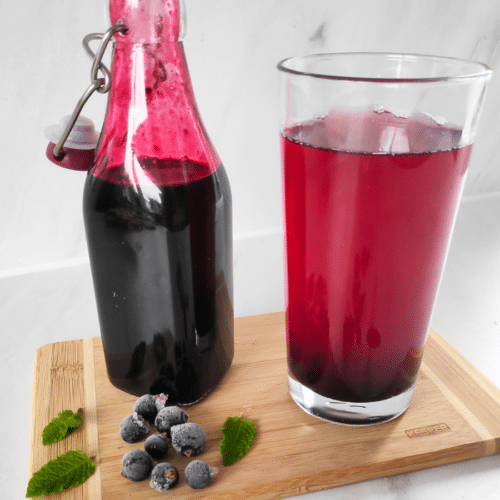 Simple Blackcurrant Cordial Homemade Recipe
Easy homemade blackcurrant cordial.
Ingredients  
450

g

Blackcurrants

(Fresh or frozen)

250

g

Sugar

(Caster or Granulated)

250

g

Water

2

Lemons

(Juice and Zest)
Instructions 
Heat the water and sugar in a pan until the sugar has dissolved, then add the blackcurrants and lemon zest.

On medium to high heat, cook for about 10 minutes so that the blackcurrant becomes soft and begins to burst. Add the lemon juice and stir through.

Sieve the mixture through some muslin cloth on top of a fine sieve. Use a sterilised glass jug to capture the syrup. Then transfer to a sterilised bottle/s.

Seal and allow to cool. Dilute according to taste. Serve with still or sparkling water.
Get your ingredients delivered
Check out Ocado! Save 25% on your first order + 3 months free unlimited deliveries. Enter VOU7389477 at checkout
Nutrition
Calories:
87
kcal
Carbohydrates:
23
g
Protein:
1
g
Fat:
0.2
g
Saturated Fat:
0.02
g
Polyunsaturated Fat:
0.1
g
Monounsaturated Fat:
0.02
g
Sodium:
2
mg
Potassium:
117
mg
Fiber:
0.4
g
Sugar:
17
g
Vitamin A:
72
IU
Vitamin C:
62
mg
Calcium:
21
mg
Iron:
1
mg
Tried this recipe?
Let us know how it was! or tag @rachelsrecipepantry on Instagram and hashtag #rachelsrecipepantry Thank you!!